Join Hugo Obi, Founder and CEO of Maliyo Games on his seminar talk about the emerging trends in the African games industry! With visionary strategies and an innovative approach, Maliyo Games has emerged as a driving force in bridging the talent gap within African gaming. Over the years, we've built a strong community and encouraged diversity, paving the way for a thriving and vibrant gaming ecosystem on the continent.
This year, Hugo Obi will be sharing his insights and perspectives at the highly anticipated Brazil Indie Game (BiG) Festival in São Paulo from the 28th of June to the 2nd of July 2023.
The festival is an annual gathering of game developers, industry professionals, and enthusiasts, and will be held at the São Paulo Expo in Vila Água Funda, Brazil. The event is an important platform for stakeholders from across the global games industry to share knowledge, network, and explore the latest developments within the world of game development.
Hugo's talk "Creating a Talent Pipeline for the African Games Industry," on June 29th, at 10:20 AM (BRT) will shed light on Maliyo Games' innovative approach to solving the challenge of the untapped talent in game development across the continent. He will discuss the studio's in-house academy program, Maliyo Academy, in partnership with Google, designed to unleash the game development potential of aspiring creators in Africa.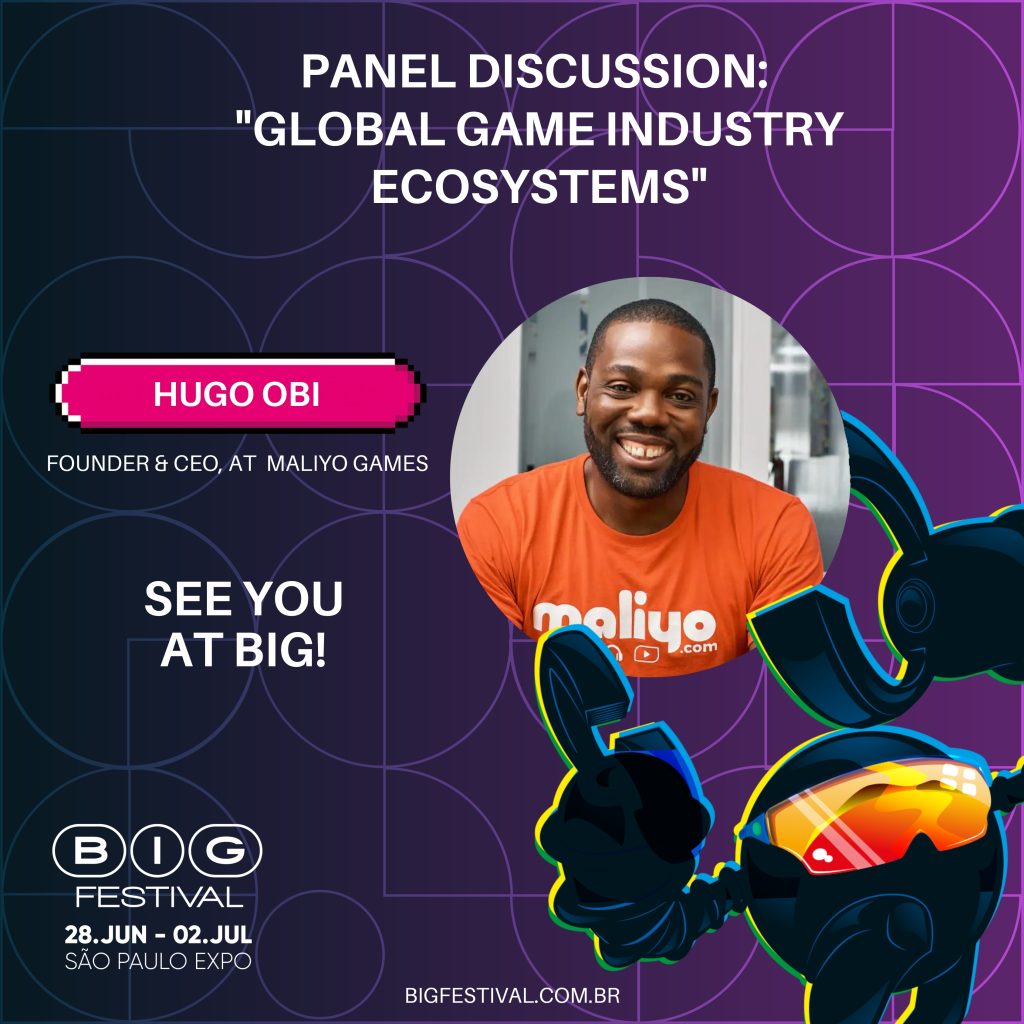 Hugo will also be participating in a panel discussion on June 29th, at 12:50 PM (BRT) together with notable speakers; Jason Della Rocca (Execution Labs), Jefferson Valadares (Fortis Games), Lars Janssen (The German Games Industry Association), Pedro Santoro Zambon ( Sao Paulos Games Incubator), Ricardo Pedro Mimoso Flores (Nine66). The panel will explore different global ecosystems; Brazil, Canada, Portugal, Africa, and the Middle East. The discussion will examine what is and isn't working, share lessons learned, identify missteps to avoid, support and grow regional game development ecosystems.
During the conference, Hugo is eager to connect with like-minded individuals, mobile game studios, and educational institutions. He is interested in learning from the Brazilian gaming culture, exploring potential collaborations, and expanding the network of Maliyo Games within the global gaming industry.
Looking to meet Hugo Obi during the event? Connect via LinkedIn: @Hugo Obi.