As a child growing up in Kenya, like many others, I eagerly awaited the Sunday newspaper for one reason – the Supa Strikas comics. This South African brand captured the hearts of children across the continent. The brand is estimated to be worth $2.75 million in today's money. What made this comic book so special was not only the compelling stories but also the beautifully illustrated characters. As I look back on my childhood, I realise that Supa Strikas played a significant role in shaping my career as an artist and writer in the video games industry.
One character that stood out for me was Shakes. I was fascinated by his spiky hair and his unshakeable character. I spent countless hours admiring the illustrations and tracing them until I started drawing them from scratch. It was those solitary moments with Shakes' illustrations that helped me discover my love for drawing, which ultimately led me to write about my creative process on my blog.
As I continued to hone my craft, I found myself drawn to the video games industry. I am now a writer in the video games industry. Looking back, I realised that Supa Strikas was the root of my career path, and I am grateful for the influence it had on my life.
Supa Strikas was created to provide local heroes in comics that Africans could relate to and fall in love with. The brand diversified its distribution by localising the comic and adjusting the names of the main characters for each African country. For instance, Shakes was called Shakes Mokena in South Africa, Shegs Okoro in Nigeria and Shakes Makena in Kenya.
To leverage its great storytelling the brand had a strategic partnership with Unicef during its Rookie Season. The theme of this season was: Developing content which assists children to fulfil their potential. The brand's strategic partnerships and sponsorships from big brands like Nike, Caltex, and KFC created positive life messages and enabled the brand to grow.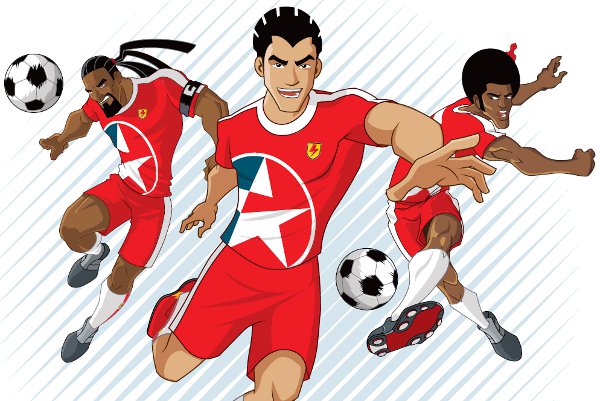 The brand's product placement was genius. Seeing Caltex logos on Supa Strikas jerseys while I marvelled at the illustrations made these brands memorable. The brand had the main advertiser go on the jersey, which was brilliant.
Looking back, Supa Strikas comics played a significant role in shaping my career as an artist and writer in the video games industry. It is important to reflect on our childhood influences and acknowledge their impact on our current career paths. I challenge you to also take a moment to reflect on your childhood influences and appreciate how they've shaped your journey so far.