We are thrilled to announce the start of our highly anticipated Game Art Programme, which attracted an overwhelming response from aspiring artists. We received an impressive 376 applications and 51 outstanding art submissions. It goes without saying that the selection process proved to be a challenging task.
After careful consideration, we proudly welcomed 27 participants on the 29th of May 2023. These talented individuals exhibited exceptional potential and dedication in their applications. An insightful onboarding session kicked off the sessions. In this article, we'll delve into the intricacies of our Game Art Programme, the interesting assignments our participants did, and the evaluation process that led us to discover some exceptional talents.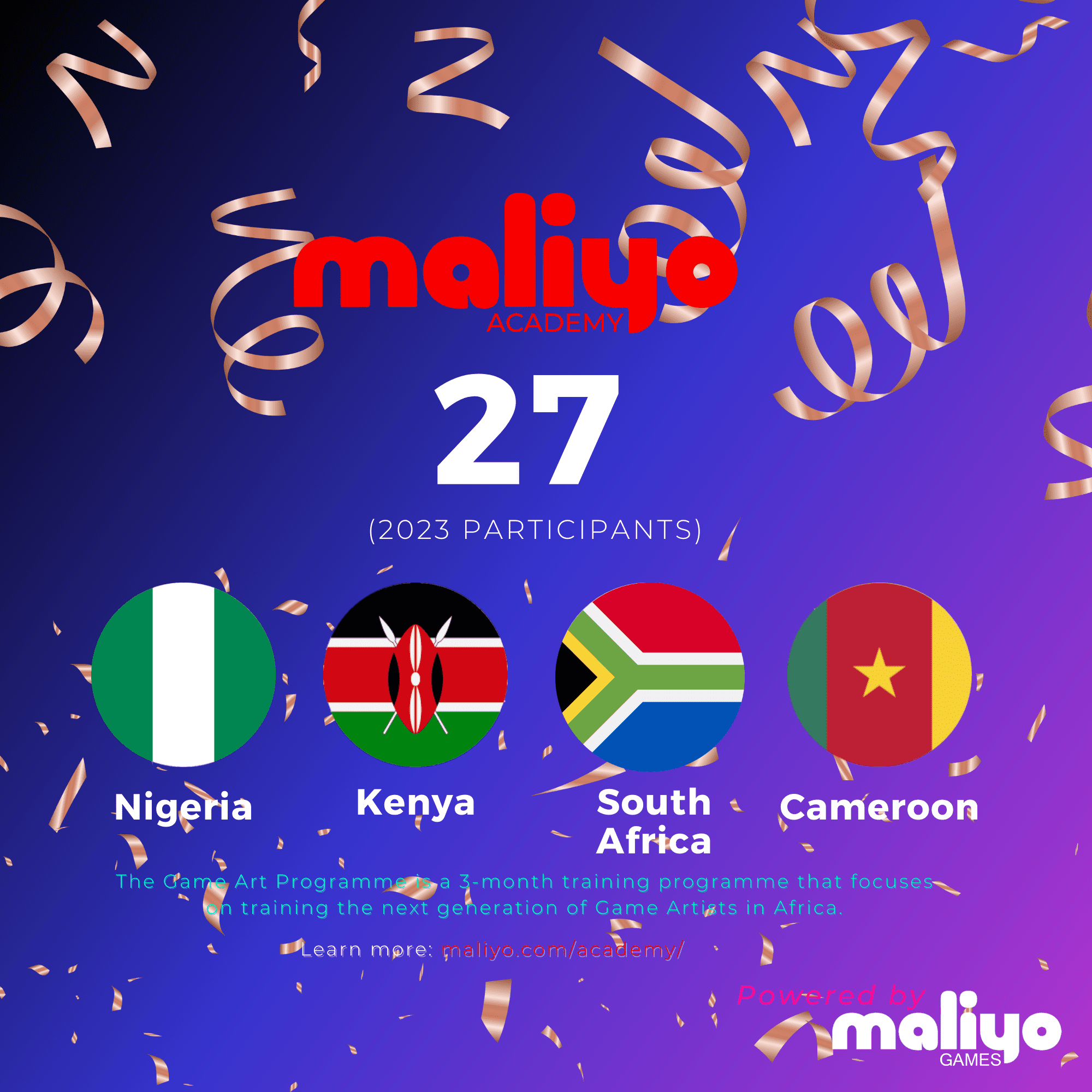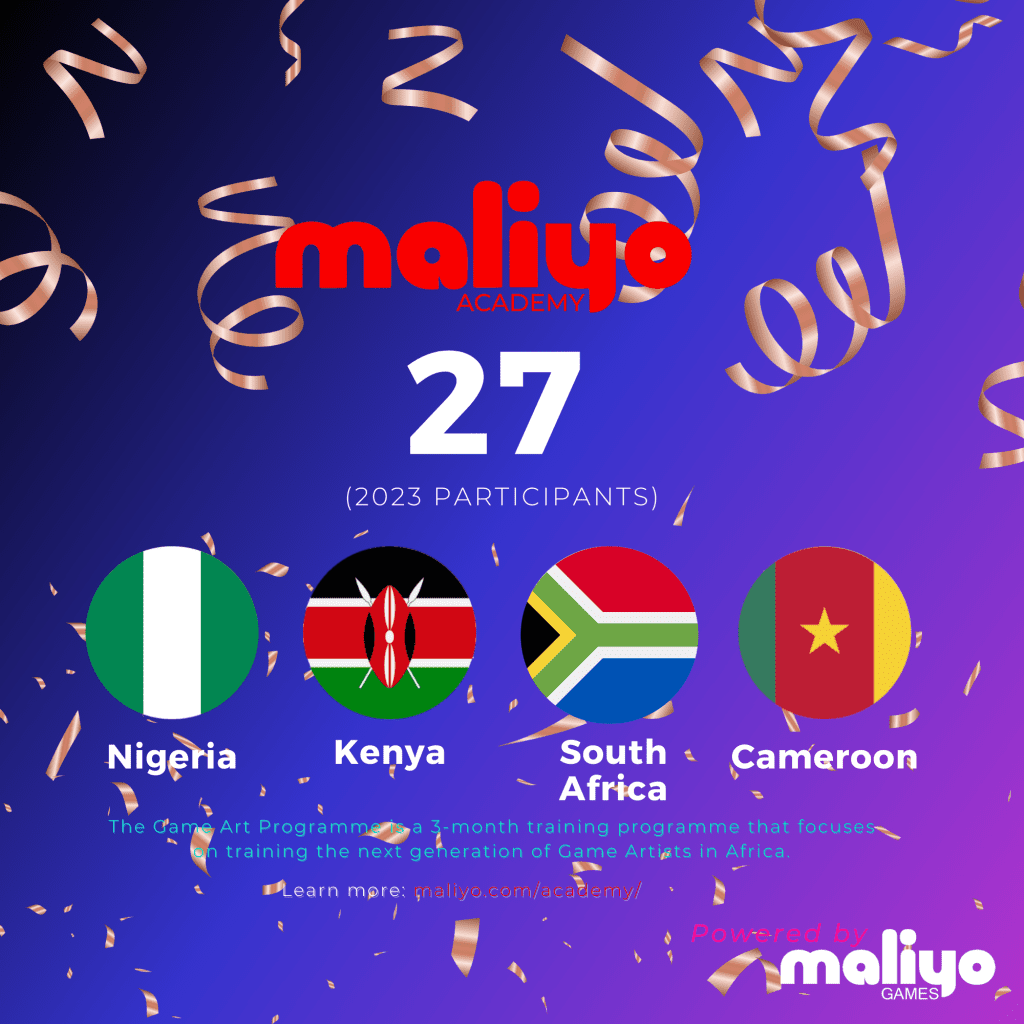 Diverse Representation
One of the highlights of our Game Art Programme is the diverse representation we have gathered. We are proud to have 18 artists from Nigeria, 6 from Kenya, 1 from Cameroon, and 1 from South Africa on board.
Among the 376 applications received, 288 talented individuals identify as male, while 85 participants proudly represent the female artistic community. 3 individuals preferred not to disclose their gender.
The age groups of the participants span a wide range, with 9 individuals below the age of 18, 193 artists falling between the ages of 18 and 24, 177 participants in the 25-30 age bracket and 40 individuals aged between 31 and 35.
We are excited to have received applications from Angola, Benin Republic, Brazil, Burkina Faso, Cameroon, Ethiopia, Georgia, Ghana, Kenya, Madagascar, Namibia, Niger, Nigeria, Rwanda, Serbia, South Africa, Tanzania, Uganda, the United Kingdom, and the United States.
It is important to note that while we celebrate the breadth of representation, we started this journey with a smaller group of 27 selected participants. One reason is that we initially embarked on this journey without a sponsor. Our focus was on providing an intimate and personalised experience for these talented individuals, ensuring that they receive the utmost attention and support in their artistic growth.
These artists come from diverse professional backgrounds. We have 2D/3D artists, digital artists, visual development artists, multimedia designers and character artists on board. These varying skills promise to bring a unique perspective to our projects.
Setting the Stage for Artistic Brilliance
Our Game Art Programme set the stage for artistic brilliance to flourish through our thought-provoking assignments. In the application phase, we tasked our participants with designing African-inspired racing games, to revamp the cheeky world of Whot King and to create immersive kitchen layouts for a culinary adventure.
The assignments were as captivating as they were challenging. The artists were invited to craft mood boards, breathe life into a captivating character and bring colourful environments to life. This extraordinary opportunity promised to push boundaries and inspire innovation. This challenge brought out the best in our participants who showcased the immense talent that Maliyo Games is proud to nurture.
Evaluation and Review
To ensure fairness and excellence, we entrusted the final decision to Danny Kundzinsh, an experienced concept artist who has worked extensively with renowned Hollywood studios such as Marvel. Danny meticulously reviewed the submissions, considering their completeness, adherence to instructions, attention to detail, and passion demonstrated through the character designs and gestures.
The selected participants have begun a thrilling journey that will give them the essential skills to succeed in the global games industry. Our 3-month accelerated art training programme which just recently got a French Government sponsorship will provide free training, experienced mentors, and a peer support community.